PRIMARY EDUCATION (K-G3)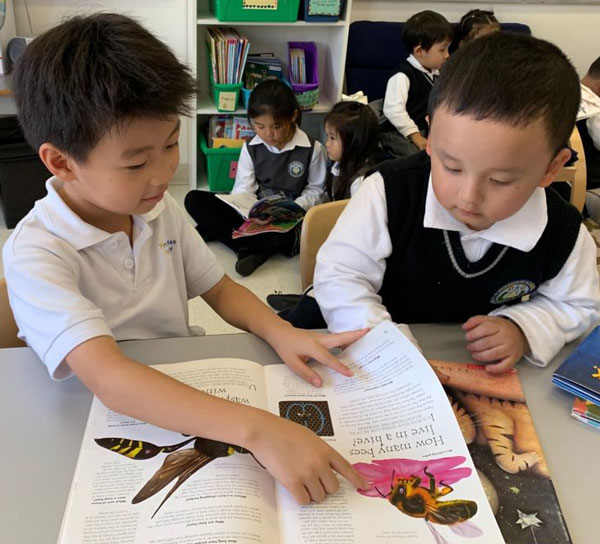 The primary program at Pythagoras Academy lays an important foundation for each student's future. They develop core academic skills, such as literacy and numeracy. However, the teaching and learning does not stop at the content. Students are challenged to think critically, even at a young age. They are asked to make inferences and predictions when reading. They are encouraged to question and 'dig deeper' during learning. After learning about a concept, students are asked to reflect on how their thinking about the topic has changed or been transformed. Additionally, there is an emphasis on social-emotional learning through discussion of the core competencies, morning meetings, the Second Step program, and the Mind Up program.
Students also have the opportunity to learn from a variety of specialized teachers in a wide range of disciplines – music, musical theatre, French, information technology, visual arts, and physical education. Students also have the option of taking Mandarin classes from kindergarten to grade 8.
Activity blocks are a special time for grades 1-3 students as they can choose from options such as robotics, gardening, origami and young engineers. These multi-age groupings allow students to experience something new or further develop a particular skill, forge friendships between grade levels and work with other teachers.
The teacher-student connection is at the heart of the primary program. Our teachers prioritize developing strong relationships with each student and their families. Small class sizes allow students and teachers to forge a deep connection.
Parent involvement is also encouraged. There are opportunities for parents to volunteer in the school library, on field trips or during special events at the school. Parents are strongly encouraged to come in to watch presentations or showcases and participate in parent-teacher and student-led conferences. We believe if parents are confident and comfortable with what is happening in the classroom, this will positively influence their child's learning as well. Parents, teachers and students work together to form a team to support a child's educational journey.
It is truly an honour to help students grow as learners as they move their way through the primary program at Pythagoras Academy. We hope you join us on this journey.