Author: Jasmine Xu, Natalie Palombo
Halloween was an enjoyable and exciting event this year. On the morning of Oct. 31st, 2019, our day started with a costume parade throughout the school. Kindergarten classes picked up the JK classes first and then moved onto the learning pods and the elementary hallway. 
We gathered in the gym for a special Halloween assembly, led by grade five students.
The grade five students discussed historical Halloween origins and customs that turned into our Halloween traditions today. Students discussed the Celtic Samhain festival and how the Christians changed the tradition 1200 years ago. They called it "All Hallows Eve" and over time it became known as Halloween. Students performed a dance to the song, "Somebody's Watching Me" and recited a historical poem from 1897 entitled, "My Dad is Dracula". Students performed a skit about how to be more open-hearted during Halloween by becoming a Halloween Hero and donating to UNICEF. The proceeds from Halloween Heros will go to children who need health care, food and education. The Halloween assembly was concluded with well-wishes for a safe and happy Halloween, as well as a reminder for about Halloween manners and etiquette.
In the afternoon, classes had Halloween parties, filled with delicious snacks, fun games, crafts, and spooky age-appropriate movies.
Each class also decorated their classroom door with student work, Halloween decorations, recycled materials and natural materials. Check out some of the creative and unique door decorations!
We also started a guessing game at the front door early this week. Students had to write down their predictions of how many spooky creatures were in the jar. The winners can have all the creatures in the jar! 
We had so much fun today! Thank you to all parents and staff for making Halloween so special!
Author:Nicole Gascon
Over the course of the week of November 4th, through videos, students from Kindergarten to Grade 8 learned about the poppy and its importance as well as the veterans who fought for our freedom. Students also participated in the Peace Crane Project which invites every student in the world to fold an origami crane, write a message of peace on its wings, then exchange it with another student somewhere in the world. A "peace crane" is an origami crane used as peace symbol, by reference to the story of Sadako Sasaki (1943– 1955), a Japanese victim of the long-term effects of the nuclear bombing of Hiroshima in 1945. Sasaki was said to have folded one thousand origami cranes before her death. The Peace Crane Project builds friendships, strengthens hand-eye coordination and writing skills, teaches geography, exposes students to new languages and cultures, and empowers youth to make a difference in their community, country, and world. 
On Friday, November 8th the grade 6, 7 and 8 students hosted Pythagoras Academy's Remembrance Day service. Students started the assembly by lighting a candle to honour and recognize the 69 different countries that are currently at war in our world. Before the assembly Grade 6, 7, and 8 students reflected on what peace was and expressed their feelings on peace through artwork. That artwork was displayed during the assembly and a few of the students elaborated on their artwork during the service.
A very special Pythagoras Academy thank you to Master Seaman Alan Vu for coming to our school and participating in our service. Before the service MS Vu spoke to Grade 6, 7 and 8 students and answered any questions they had about what it was like being a naval officer as well as the training process. During our service MS Vu, along with one of the Grade 6 students helped lay a wreath of poppies on the cross. During his presentation he introduced staff and students to a few key figures of World War I and II as well as some current heroes from the wars of today. MS Vu also took one of our Pythagoras Academy wreaths and placed it on the cenotaph at city hall during the Remembrance Day service held there on November 11th, 2019.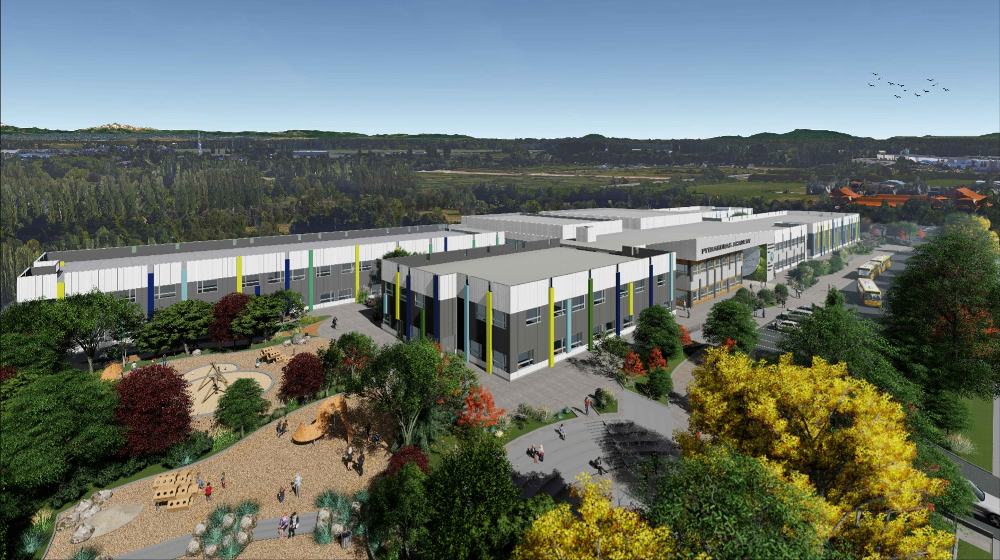 The new 10-acre campus of Pythagoras Academy is on No. 5 Road between Williams Road and King Road in Richmond. It's easily accessible by bus, highway 99 or local roads. It is about a 10 minute drive southeast of our current Odlin campus location.
The new facilities will accommodate approximately 1,000 students from junior kindergarten to grade 12 with a full range of teaching and event facilities. The new school building contains a lot of common-use learning space, a large gymnasium with a sliding divider wall, a 400-seat, state-of-the-art performance theatre, a commercial kitchen, a 500-seat cafeteria, an artificial turf, full size outdoor soccer field, three tennis courts, basketball courts, running track, a cozy, outdoor performance venue, children's play areas, a covered outdoor activity area, plus more.
The cost of the land, its development, facility construction and fitting out is estimated to be $106 million which will be funded by the founders' team, investors and bank loans. Parents will be informed of progress of permitting at the City of Richmond and Agricultural Land Commission. The project is currently on schedule to be delivered and ready for the September term of 2022.